For the mission, see Apollo's Chariot (mission)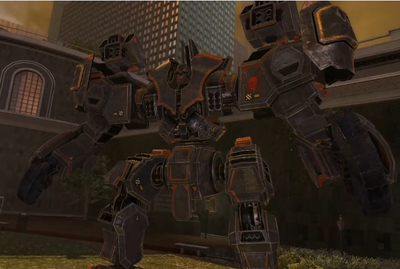 Apollo's Chariot is the name given to one of the world's most dangerous mercenary groups led by Marcus Seligman at the time of Front Mission Evolved.
Apollo's Chariot's wanzers are custom-made. Their manufacturer is unknown, but it's assumed that each part of the model is made by a different manufacturer because of its strange appearance. Each pilot most likely has their own models customized to their specifications.
In the end, Apollo's Chariot has been ultimately defeated by Dylan Ramsey himself, with only capturing Marcus Seligman to find out where Adela Seawell has been held.
Marcus Seligman - The leader of Apollo's Chariot. (Ballistic type with knuckles and missiles).
Pia Simpson - Member of Apollo's Chariot (Sniper type with bazooka and grenades).
Gloria Leguizamo - Member of Apollo's Chariot. (Brawler type with rod and shield).
Megan Chamberlain - Member of Apollo's Chariot. (Assault type with shotgun and gatling gun).
Picture Gallery
Edit
Apollo's Chariot wanzers are playable in the Multiplayer Mode.
Marcus is the only male member of Apollo's Chariot.