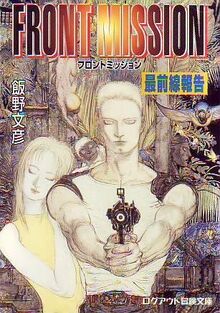 Front Mission: Front Line Report is a novel which was released on July 22, 1995. Front Line Report is an expanded universe supplement to the original Front Mission. Although the novel is a partial adaptation of the game itself, it is mostly comprised of new story content. As the subtitle implies, the novel revolves around the viewpoints of Front Mission protagonists, Royd Clive and Frederick Lancaster. However, it does not exclusively focus on Royd and Frederick, as the story occasionally shifts focus to other characters seen in Front Mission.
Summary
[
]
Front Line Report begins days before the events of the original Front Mission in June 2090, and ends several days after the video game in May 2094. The story of Front Line Report can be split into three acts.
1. An O.C.U. investigation led by Royd of a U.S.N. munitions plant goes awry and results in the Second Huffman Conflict. In Japan, Frederick attempts to save his job at the Tokyo Times after publishing a controversial article about the government.
2. The Canyon Crows mercenary outfit is formed to help the O.C.U. military turn the tides of the Second Huffman Conflict into their favor. Meanwhile, reports of missing soldiers and civilians begin to occur throughout Huffman Island.
3. In the aftermath of the war, Frederick attempts to expose the Republic of Zaftra as the true instigator of the war. His efforts to break the silence are met with heavy opposition from the U.S.N., O.C.U., and Zaftran governments.
Major Sub-plots
[
]
Royd's struggle with depression after believing he incited the Second Huffman Conflict, giving way to an addiction to alcohol and drugs.
Ryuji's familial disputes with Koichi and Reiji about Sakata Industries.
Natalie's attempts to keep the rowdy Canyon Crow members in line.
Frederick's difficulties getting scoops during the Second Huffman Conflict.
Gentz's zealous battles to stop Sakata Industries and its unethical research.
Driscoll's relentless push to test the latest experimental weapons developed by the Nirvana Institute.
The search for Karen, her fate, and the one who killed her on Huffman Island.
The collusion between shadowy O.C.U. and U.S.N. military factions to exploit the war for their own benefit.
The general public's fascination over Frederick's account of the real nature behind the Second Huffman Conflict.
Trivia
[
]
The novel officially reveals Porunga's ethnicity as an Australian Aboriginal.
The novel officially introduces Sayuri Mitsuzuka and foreshadows her appearance in Front Mission 2. This also marks the first time she appears in the Front Mission storyline chronologically.
References to other Front Mission story elements include: the African Conflict, Wanderwagen (WAW), the First Huffman Conflict, the Huffman Crisis, Sakata Industries, the Bioneural Device, and the Peace Mediation Organization.
There are 13 black-and-white (B&W) illustrations inside the novel, three of which are spread out across two pages.