Jurassic World: Dominion Dominates Fandom Wikis - The Loop
Play Sound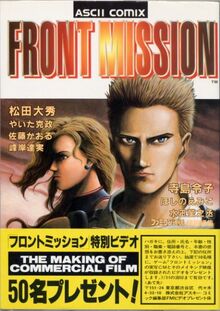 Front Mission is a manga which was serialized in magazine publication ASCII Comix from January 1995 to July 1995. Most of the chapters were re-released under the title Front Mission Comics on July 22, 1995. The Comics manga is an expanded universe supplement to the original Front Mission. Created before the release of the video game, the manga is largely a prequel. It focuses on the relationship between Royd Clive and Karen Meure. However, there are parts of it which are set during the original Front Mission, and after it as well. In these segments, the focus shifts to the other characters seen in the game.
Summary
[
]
The Front Mission manga begins months before the events of the original Front Mission in January 2090, and ends a month after the video game in June 2094. Due to its structure, the story of Comics can be loosely split into three acts.
1. Assigned to border patrol duty, Royd and Karen guard the O.C.U. border of Huffman Island against U.S.N. forces. The two are also caught up in an O.C.U. military investigation regarding thefts of classified O.C.U. technologies.
2. During the Second Huffman Conflict, the Canyon Crows are tasked with recovering a submarine stolen by the U.S.N. They are forced to work with U.S.N. forces when terrorists capture the submarine and attempt to launch cruise missiles.
3. Three years since the Second Huffman Conflict ended, Royd returns to Australia to visit an old friend. When he is captured by O.C.U. forces and sent to jail, Royd breaks free with the help of a mysterious stranger he once met on Huffman Island.
Major Sub-plots
[
]
Royd's eventful and often turbulent relationship with Karen.
Karen's suspicions of illegal military activities on Huffman Island.
The rocky formation and failures of the Canyon Crows during the early stages of the Second Huffman Conflict.
The O.C.U. military's reluctance to have mercenary outfits work alongside their armed forces.
The complicated political relations between the O.C.U. and the U.S.N.
Growing antipathy among the general public over the supranational unions' handling of social and economic disparity of their member states.
The Grimnir's recruitment of persons with grievances against the government.
Trivia
[
]
The manga officially introduces Kevin Greenfield and foreshadows his appearance in Front Mission First. However, it does not mark the first time he appears in the Front Mission storyline chronologically.
There are two extra chapters of Front Mission which were not included in the official omnibus. These chapters are found only in the ASCII Comix magazines.
References to other Front Mission story elements include: the African Conflict, Wanderwagen (WAW), the First Huffman Conflict, the Huffman Crisis, Sakata Industries, the Bioneural Device, and the Peace Mediation Organization.
There are 16 color pages inside the manga.