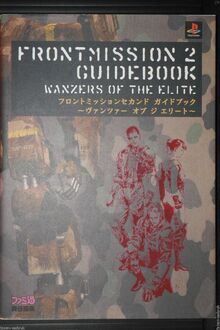 Front Mission 2: Wanzers of the Elite is a manga which was serialized in magazine publication Comic Bean from July 1997 to October 1997. The chapters were re-released in a strategy guide titled Front Mission 2 Guidebook: Wanzers of the Elite on January 5, 1998. The Wanzers of the Elite manga is an expanded universe supplement to Front Mission 2. Created before the release of the video game, the manga is both a prequel and a sequel. However, there are parts of it which are set during Front Mission 2. The story revolves around the three central protagonists of the video game: Ash Faruk, Lisa Stanley, and Thomas Norland.
Summary
[
]
Wanzers of the Elite begins four years before the events of Front Mission 2 in April 2098, and ends a month after the video game in August 2112. Due to its structure, the story of Wanzers of the Elite can be loosely split into three acts.
1. Newly promoted to Second Lieutenant, Ash becomes the personal aide of a rising colonel within the Alordesh Army. However, he is unable to bask in his good fortune when Alordesh becomes victim to the First Alordesh Coup d'Etat.
2. Four years after the First Alordesh Coup D'etat, the economically battered country experiences another violent revolution. O.C.U. forces desperately attempt to reclaim control of the country against the Revolutionary Army.
3. Near the end of the Second Alordesh Coup D'etat, a U.S.N. detachment arrives in Alordesh to locate an O.C.U. super-weapon. Their investigation puts them on a collision course with the true masterminds of the revolution.
Major Sub-plots
[
]
Ash's coming to terms with his traitorous and shameful past.
Lisa's evolving perception of patriotism towards the O.C.U.
Thomas' antipathy towards the O.C.U. military's treatment of civilians.
Ven's hatred of the O.C.U. for oppressing the will of the Alordeshi people.
The Alordeshi peoples' continued dependence on the O.C.U. for economic aid.
The sad state of the Alordeshi economy since the O.C.U. abandoned the country after the Huffman Conflicts.
The U.S.N.'s unusual interest in the domestic affairs of the O.C.U.
The Grimnir's far-reaching influence across poor O.C.U. member-states.
Trivia
[
]
The manga officially introduces Masao Sasaki and foreshadows his appearance in Front Mission 3. However, it does not mark the first time he appears in the Front Mission storyline chronologically.
References to other Front Mission story elements include: the African Conflict, Wanderwagen (WAW), the First Huffman Conflict, the Huffman Crisis, Sakata Industries, Bioneural Device, the Sakata Industries Incident, the Second Huffman Conflict, the Peace Mediation Organization, and the Canyon Crows.