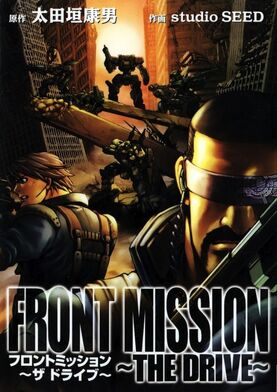 Front Mission ~The Drive~ is a manga which was serialized in magazine publication Young Gangan from December 2005 to May 2006. Most of the chapters were re-released in an official omnibus on April 25, 2007. The Drive manga is an expanded universe supplement to the Front Mission 2089-II. Aside from Front Mission characters such as Albert Masel, Karen Meure, Maria Paredes, Darril Traubel, and Glen Duval, the manga is comprised of entirely new characters.
Summary
[
]
The Drive begins a few months after the events of the Front Mission 2089-II in August 2090, and ends within the same month. The story of The Drive can be split into three acts.
1. Locked in battle against a U.S.N. mobile weapon in Freedom City, Albert is saved by the timely arrival of an O.C.U. special forces unit known as Akatsuki. Watching from afar, Maria analyzes the disposition of the O.C.U. forces.
2. The Akatsuki head off to their next operation to rescue O.C.U. government officials from nearby U.S.N. forces, with an injured Albert in tow. While unconscious, he recalls his early childhood days meeting Karen and Glen.
3. A battle ensues against the Akatsuki and U.S.N. forces at a villa near Mail River where the O.C.U. government officials are being held hostage. Nearby O.C.U. forces attempt to help Akatsuki, but are stopped by the arrival of Darril's detachment.
Major Sub-plots
[
]
Albert's coming to terms with the loss of Serena one year after her death.
The childhood bonds Albert, Karen, and Glen shared on Huffman Island.
Akatsuki's usage of experimental piloting interfaces inside their wanzers.
The early war exploits of Darril and Maria during the Second Huffman Conflict.
The development of Huffman Island during its dual-colonization by the O.C.U. and the U.S.N.
The O.C.U. military's lack of combat readiness during the early stages of the Second Huffman Conflict.
Characters
[
]
Trivia
[
]
The manga was originally written to be a long series, but this plan was scrapped for unknown reasons. As a result, The Drive ends with a cliffhanger. Albert's fate, however, is known as he appears in a post-epilogue mission in Front Mission 2089: Border of Madness.
Since it is incomplete, there are two extra chapters of The Drive which were not included in the official omnibus. These chapters are found only in the Young Gangan magazines.
The Drive was simultaneously in development along with Front Mission 2089-II, despite the fact the manga began serialization before it.
References to other Front Mission story elements include: the First Huffman Conflict and the Huffman Crisis.
There are two color pages inside the manga.