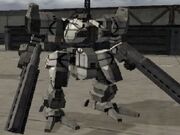 The Gepard (German: Gepard, Cheetah) is a wanzer model has only appeared in Front Mission 4. An "Advanced Wanzer" type, it was created by arms manufacturer Schnecke of E.C. Germany.
History
[
]
Believed to have been influenced by other advanced wanzers, the Gepard was designed to be the successor model to the Igel and Grille lines. In an attempt to rectify the poor armoring of said wanzer lines and create a powerful offensive model, Schnecke began production of the Gepard line. Through the addition of extra armor plates and reinforced joint armor, it was said to be 25% larger and heavier than the Igel and Grille models. Unlike the long-range specialized Igel and Grille lines, the Gepard series was primarily designed as an assault-type wanzer. It was also designed to carry heavy weapons, such as the machine gun version of the company's Ziege sniper rifle.
Despite finding success in developing the Gepard, Schnecke used custom-made parts to develop the machine and thus, mass-production would have been too costly. In an attempt to bring it to mass-production, the arms manufacturer develops several more prototypes along the way. As of Front Mission 4, nine prototype models were developed with the last two being seen in the game: the Gepard Acht and the Gepard Neun. Both of these wanzers were piloted by Rolf Wagner of the German Blauer Nebel special forces. The Gepard Acht was designed with ranged combat in mind, whereas the Gepard Neun was capable of both melee and ranged combat. The final prototype had its left arm part changed to one with claw-shaped hand manipulators, and was equipped with a small machine gun compartment for defense.
Overview
[
]
The Gepard series is marked by very high armour and output (thus enabling it to carry heavy weapons). However, its evasive ability is below-average for an assault-type wanzer. Still, it proves to be a deadly weapon in combat. In the game, it was seen to be equipped with heavy machineguns. Not only does it has strong offensive power, but its high armour also enables it to take a large amount of damage before going down. More specifically, it can take at least twice the amount of damage ordinary wanzers can withstand.
Deployments
[
]
Blauer Nebel (Front Mission 4)
Models
[
]
Gepard Neun (Front Mission 4)
Gepard Acht (Front Mission 4)
Known Pilots
[
]
Rolf Wagner (Gepard Neun, Gepard Acht), Front Mission 4
Trivia
[
]
Gepard is one of the few wanzer models in the series that has only been seen piloted by one user.